Baseball
April Baseball Is Back! Now Please Don't Go Anywhere
Last April, the familiar sensations of spring still came around. Birds chirped at their full-throated volume, flowers bloomed, and pollen never stopped making me sneeze. One thing was noticeably absent though, enough so to make me question whether I actually knew what month it was. An April without baseball cast a strange and ill-fitting emptiness on an already bleak situation. No games to watch, no checking the schedule, and no bus rides downtown, surrounded by similarly clad folk, all of us on our way to watch the hometown nine.
This April, conversations of "getting back to normal" are dominating the zeitgeist. With an end table full of masks, a dry social calendar, and boxes upon boxes of takeout still piling up, I didn't totally feel like we were getting back to normal until Opening Day. The yearly tradition of waking up on the season's first day, staring at the slate of games with pulsating heart eyes, and settling in for the first 10 AM game on the West Coast, is something I cherish more than my own birthday. As many people can likely attest, missing out on that made it feel like last year didn't even count.
It's not just the act of watching baseball that delivered recognizable comfort, though. It's also the minutiae of the broadcasts. Chuckling at Keith Hernandez saying "fundies", or screaming "Ronald Torreyes!" at the Yankees' in-game trivia question, is to remember what it was like to live our lives before they were halted. Sure, we eventually got those things last year, but to have them back on schedule, they way they always used to be, was the sweetest balm baseball could provide.
I've even found elation in seeing and hearing some of the game's most irritating features. Tony La Russa still loves to bunt. I found myself playfully wondering how Alex Rodriguez, who played 22 years at the highest level, can have such a bizarre understanding of the game. But again, my gripes with managerial decisions or national TV broadcasts quickly subsided when I remembered how grateful I was to even be able to complain about those things at all. Last April was consumed by fear, confusion, and isolation. This April, those feelings are mostly reserved for Trevor Story's situation in Colorado.
As fans slowly make their returns to live games, their presence is palpable, even through a screen. You don't realize how warming it is to watch people mill around a ballpark until enduring a year without it. It was also great to see that fans hadn't forgotten about the Astros; grudges are part of fandom, after all, and this crowd had been denied the chance to boo games that counted in person before now. While I certainly don't advocate for throwing things on the field, I can appreciate the execution of a great bit.
Signs of the pandemic are still everywhere, to be sure. Those fans and their socially distanced seating, showing various proper (and improper) applications mask-wearing, are a constant visual reminder of the times we still inhabit. The Nationals' COVID-19 outbreak and subsequent cancellation of their first series was a stark reminder of the virus' continued severity. I couldn't help but feel bad for the Washington fans who waited four extra days for their team's opener, only to watch Ronald Acuña Jr. smash a 416-foot homer on the first pitch of their season; at least they won.
I've never been so happy to watch a random stranger try and fail to catch a foul ball. And who knew that watching National League pitchers swing the bat again could provide a rush like this?
Imagine pitching to Zack Wheeler … Couldn't be us. pic.twitter.com/wysuE0NdPG

— Philadelphia Phillies (@Phillies) April 3, 2021
I had no idea how much I missed seeing shivering baseball players do a little jig to keep warm in their turtleneck, or how oddly soothing it was to see 65 mph rainbows and this face again.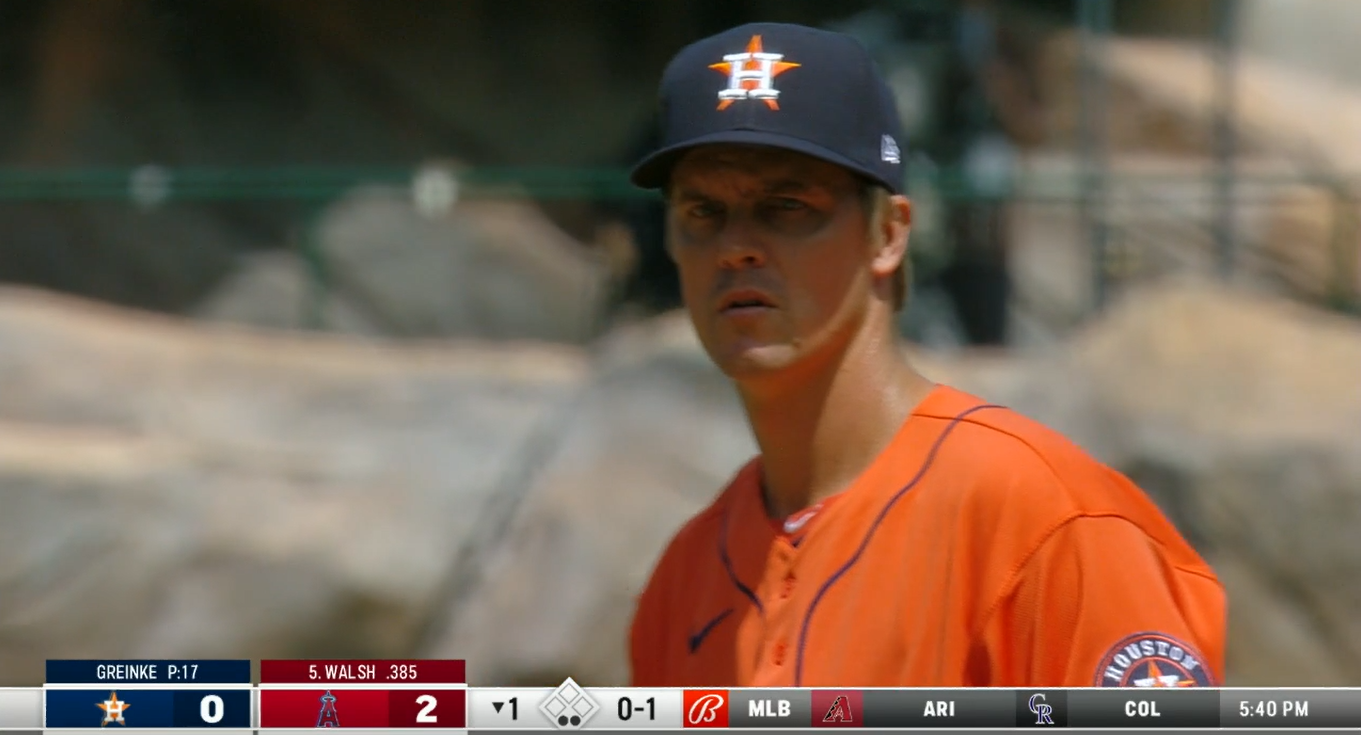 This time last year, I remember digging through YouTube trying to find games that would fill the 7-10 PM void. Not edge of your seat, gripping postseason games, but rather regular season contests that would replicate the feelings I was missing. This Mariners-A's game from 2014 was one of my favorites, but now instead of tracking down a game like that, we have roughly 14 of them every day.
The oddness of playing an outdoor sport in early spring means watching the Tigers play inside a snow globe during the morning, then watching the East Coast's night games get interesting as the West Coast's golden hour sets in, drenching my living room and its newly opened windows in sunlight. We did not have this last April, or last May, or even last June. Now, I can marvel at Jacob deGrom and Shohei Ohtani within a few precious April hours. Of course, that still means watching the Mets' and Angels' bullpens blow the lead — some things never change, no matter how much everything else does.
Later tonight I will go on my little sanity walk and listen to baseball on the radio, despite weather conditions that Lucas Giolito recently described with accurate profanity. It will feel as normal as anything I could have imagined 365 days ago, and the most heartening part of it all is that we can do it all over again tomorrow.