Baseball
For Two AL East Pitchers, Results Aren't Important Yet
It has to be a wildly difficult thing, standing on a pitching rubber for the first time after a long absence caused by injury. Really, I'd submit that it is scary to do things in general. But I imagine it would be a special kind of burden to confront your fears on the mound, one of the loneliest places on earth. Sure, the defense is behind you, and the catcher does his best to guide you through; you have teammates and coaches cheering you on from the dugout. But the time has past for any of them to help you align your mechanics, or throw the ball as hard as you once did. You're on your own, asking your body to do something it wasn't built for and willing it not to fail you like it did last time.
The first time Jameson Taillon went through this process, he surely hoped he wouldn't need to do it again. It was April 13, 2016, 955 days removed from the most recent game in which he appeared. Taillon, the second overall pick of the Pittsburgh Pirates in 2010, was coming off a 2013 season in which he tossed 165.2 innings between Double- and Triple-A, and looked sharp enough that a big league call-up early the next season looked like a sure thing. But plans changed when it was announced he would need Tommy John surgery in April 2014, then were disturbed even further when a sports hernia kept him off the mound in 2015 as well. When he returned to a Triple-A mound for Indianapolis in 2016, he was brilliant, holding a 2.04 ERA across 10 starts before finally earning his belated major league debut.
His latest return to the mound after a years-long absence hasn't been quite as seamless. Now with the Yankees and looking to rebound from another UCL surgery and another 707 days away from pitching in games, he's made two starts and allowed seven runs in 8.1 innings. He's walked one, struck out 10, and surrendered three homers. The numbers from someone's first two games after that long of a break are hardly worth putting under a magnifying glass, though. Right now, it feels more pertinent to celebrate the fact that he's pitching again at all, and examine the ways in which he's changed his process to not only try to stay healthy in the future, but also unlock greater success with his new club.
An even more extreme version of this is Brent Honeywell Jr. The 25-year-old Tampa Bay right-hander spent more than 1,300 days out of game action after the 2017 season, when he threw 136.2 innings between Double- and Triple-A before undergoing the first of four arm surgeries over the next three and a half years.
That finally came to an end on Sunday, when he made his long-awaited major league debut.
Prior to the injuries, Honeywell was considered one of the premiere prospects in baseball. He ranked 15th on this site's Top 100 prospects list at the start of 2018 — a list whose other top pitchers ironically include other embattled arms such as Shohei Ohtani, Forrest Whitley, Alex Reyes and Michael Kopech — due to the fact that he possessed one of the deepest arsenals in the minors. After such a long time on the shelf, though, our prospect analyst Eric Longenhagen struggled with what to do with him on this year's Rays list, isolating him into his own category in the Others of Note section and writing, "He's still hoping to play a role sometime in 2021, and I imagine most of the baseball world will be rooting for him, but there's no way of knowing how that's gonna go."
Fortunately for Honeywell, his first appearance could hardly have gone better. He retired all six batters he faced on Sunday, striking out two and throwing just 21 pitches. But again, the results are beside the point. It was one of the more satisfying moments of this brief season just to see him finally getting his shot on a big league mound; even more importantly, his stuff looked like it belonged. He averaged nearly 95 mph with his fastball and threw four different pitches in his short outing, including one of his famous screwballs.
The Rays optioned Honeywell a day after his debut, an unsurprising move considering the fact that he was added to the roster only as a spot starter for Chris Archer in the first place. While we await the chance to collect more data on him, though, we should hopefully be able to acquire plenty from Taillon. As with Honeywell, the early returns on Taillon's stuff have been positive. His fastball velocity is down slightly — he averaged 93.7 mph against Toronto on Tuesday, down from 94.7 mph in 2019 — but he's more confident in his heater than he used to be. From a story by The Athletic's Lindsey Adler:
"Pitch-mix wise, I'm getting some swings and misses and some reactions on fastballs that are 93-94 miles per hour now, and when I threw like 96-97 on sinkers, I'd get squared up. I'm definitely gonna be learning and adjusting to my new pitch mix and to the new division and everything, but it's definitely a different pitch package. And definitely a different way of pitching."
Yes, yes, it's another ultra-talented former Pirates pitcher talking about finding more success after leaving Pittsburgh and being free to ditch the sinker. Before you despair too much, though, it's worth noting that the Pirates did already appear to be doing some course correction with Taillon before his latest injury. After beginning his career with a 41.3% sinker percentage in 2016, he threw less of the pitch in each of the subsequent three seasons, until he was throwing it less than 20% of the time in 2019. He threw more four-seamers than sinkers in each of his last two seasons in Pittsburgh, and even seemed to be throwing those four-seamers higher in the zone. His extremely small-sample fastball heat map from his first start of 2021 actually looks a lot like that of his 2019 season with the Pirates.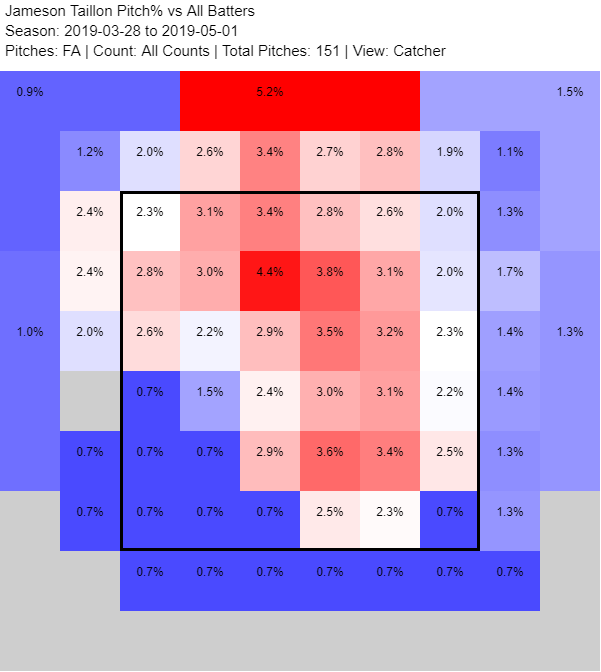 Taillon's four-seamer improved significantly in his final two years with Pittsburgh. After posting whiff rates in the teens in 2016 and '17, that number jumped to 24.3% in '18 and 26% in '19. That fastball has looked just as tough to get a bat on in his first couple starts with New York. Through two games, opposing hitters have missed on 14 of the 43 swings they've taken against Taillon's four-seamer, a whiff rate of 32.5%.
Taillon's breaking stuff hasn't been as consistent as his fastball. In his start against Toronto on Tuesday, he got just one miss on 19 swings against his secondary offerings. That shows how far he has to go in better executing his slider and curveball, but there's good reason to think those pitches should be real weapons again soon. Since joining the Yankees, Taillon has added a fair amount of spin across the board, including 70 rpms to his curveball and 140 rpms to his slider. Considering how good those two pitches were when he was in Pittsburgh, one could be justifiably optimistic about what Taillon might accomplish if he gains better command with more time on the mound.
There might even reasons to be optimistic — if guardedly so — about his health. The history of pitchers who receive Tommy John surgery twice having lengthy big league careers, particularly as starters, isn't great. But to Taillon's credit, he's determined not to be felled by his old mistakes again. Seeking advice from the training and development staff with both the Pirates and the Yankees, as well as from fellow pitchers like Lucas Giolito, he's remade his delivery in an attempt to relieve stress on his elbow and perhaps even improve his stuff.
Jameson Taillon, old long arm action (L) vs. new short arm action (R) pic.twitter.com/rv20cC71xu

— David Adler (@_dadler) March 1, 2021
The day will come when the results these two pitchers produce more fully inform the way we evaluate them, but that day isn't here yet. It isn't as though these first few appearances don't matter — their stats from these games count, and their team's place in the standings is no less on the line when they pitch. It's just important to keep things in perspective. The Yankees didn't acquire Taillon with the expectation he'd be a great pitcher in his first month on the job. They did so with the hope that showing patience with him in April might help unlock a great pitcher in October. Honeywell's two perfect innings over the weekend don't mean he's ready to be a key member of the Rays' pitching staff, but the fact that we went through so many setbacks and came out on the the other end still in possession of major league-quality stuff means one day he might be. And no one should lose sight of how phenomenal either of those outcomes would be. There was no guarantee these two pitchers would ever set foot on the mound again. Hopefully in both cases, the hardest part is over.